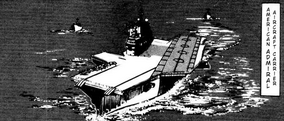 American Aircraft Carrier Admiral
was a large battleship that contained several Nuclear missiles.
Under false orders under manipulations from Medoc, Admiral was forced to fire several missiles into Russia. However when the missiles are fired back, they disintegrate before they city of Moscow is wiped from the map. They send several jets to investigate, only for one to return wrapped in a glowing light. The pilot stumbles out before disintegrating into a pillar of salt.
Ad blocker interference detected!
Wikia is a free-to-use site that makes money from advertising. We have a modified experience for viewers using ad blockers

Wikia is not accessible if you've made further modifications. Remove the custom ad blocker rule(s) and the page will load as expected.