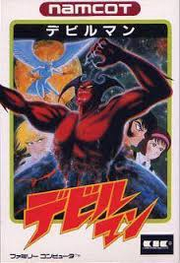 Devilman is a NES game released by
Namco in
April 25, 1989.
Differences From The Original Manga
Edit
Akira defeats Satan, rather than dying after battle, although this is only an alternate ending.
Akira battles Zennon.
Ryo's name is spelled Riyo.
Playable Characters
Edit
Akira Fudo/Devilman
Miki Makimura
Dosu-Roku
Masa Bokuto
Ad blocker interference detected!
Wikia is a free-to-use site that makes money from advertising. We have a modified experience for viewers using ad blockers

Wikia is not accessible if you've made further modifications. Remove the custom ad blocker rule(s) and the page will load as expected.