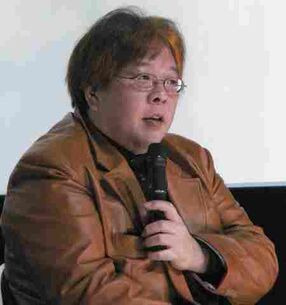 Umanosuke Iida
(

飯田 馬之介

,

Iida Umanosuke, April 30, 1961 – November 26, 2010) also known as
Tsutomu Iida was a Japanese anime writer and director, perhaps most famous for the
Hellsing
series.
Devilman
Edit
He worked alongside Go Nagai (Nagai saying that Iida reminded him of Totoro from My Neighbour Totoro) to try and create several Devilman OVA's. The final product was Devilman: The Birth which was later sequeled by Devilman: The Demon Bird. Iida expressed interest in continuing the series when he felt he had acquired the necessary funding, but with his death to cancer in late 2010 this plan did not come into fruition. However in 2000 an OVA based upon the Amon manga was released intended as a sequel to the Iida films. In 2011, his final series Towa no Quon was released in tribute to the late director.
Ad blocker interference detected!
Wikia is a free-to-use site that makes money from advertising. We have a modified experience for viewers using ad blockers

Wikia is not accessible if you've made further modifications. Remove the custom ad blocker rule(s) and the page will load as expected.